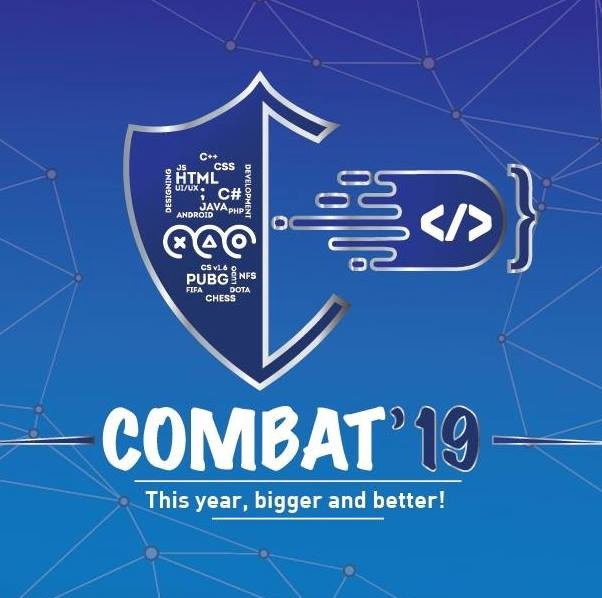 College of Computing and Information Sciences also host a regular annual event named COMBAT. This is a national level event in which students from universities countrywide participate in various competitions. The first COMBAT was held in 2009. Since then, the event has come a long way.
On 11th & 12th of April, 2019 the College of Computing and Information Science(CoCIS) of PAF-Karachi Institute of Economic and Technology (PAF-KIET) organized the flagship event Combat 2019.
The year event ComBat'19 (The Computing Battle) event featured 27 competitions of Software Engineering, Computer Networks, Databases, Web and Mobile Applications, Graphic Designing, Electronics, and Computer Gaming. The aim of the event was to bring out the abilities of the students and to provide them a platform for the competition to foster their expertise in the field of IT and related discipline. Cash prizes were awarded to the winners of competitions.
The Combat19 was started by ribbon cutting ceremony followed by opening remarks of patron Combat'19 Mr. Sohail Imran. The students were too excited for the competition and have inquired about starting of the competition even before the start of the opening ceremony.
The event attracted more than 1000 participants from all major universities of Pakistan that includes Institute of Business Administration (IBA), Karachi, NED University of Engineering and Technology, FAST National University, University of Karachi (KU), Sir Syed University of Engineering and Technology (SSUET), Shaheed Zulfiqar Ali Bhutto Institute of Science and Technology (SZABIST), Bahria University, Mohammad Ali Jinnah University(MAJU), Institute of Business & Technology (Biztek), Iqra University (IU), Usman Institute of Technology (UIT), Federal Urdu University, Sindh Madressatul Islam University, DHA Suffa University.
The event also comprised of several guest speaking sessions on "Algorithm", "The Role of Women in Tech" and "IoT", conducted by Mr. Muhammad Mustaqeem, Ms. Anum Kamran and Syed Umaid Ahmed respectively. In addition to this "Big Data", "SAP as a Career" and "Entrepreneurship" were also the topic of other speakers.
The event Combat'19 brought some new version of competitions to test logical, interactive, innovative, creative and mathematical skills of the students.
At the middle of the day, a theater show named "Mehfil e Chhoru" was played for the participants. The play was highly enjoyed by the attendees.