NCEAC is a recognized accreditator of universities and their programs in Pakistan. It ensures the quality of education students receive in Universities and Institutions. It provides world leader ship in assuring quality and in stimulating innovation in applied sciences, computing, engineering and technology education. NCEAC serves the public through the promotion and advancement of education.
Higher Education Commission was constituted on 11th September, 2002 by the promulgation of Ordinance F. No. 2(1)/2002.Pub and has been authorized in article 3 Sub-Section (e) to set up national or regional evaluation councils or authorize any existing council or similar body to carry out accreditation of Institutions including their departments, faculties and disciplines by giving them appropriate ratings. The Commission shall help build capacity of existing councils or bodies in order to enhance the reliability of the evaluation carried out by them. So realizing the benefits and need of accreditation, the National Curriculum Revision Committee of Computer Science-2003, met in December 2003 and March 2004 at Higher Education Commission in Islamabad , recommended establishment of National Computing Education Accreditation Council (NCEAC) for accreditation of degrees in Computing in Pakistan .
College of Computing & Information Sciences successfully get accreditation for BSCS Program from National Computing Education Accreditation Council (NCEAC).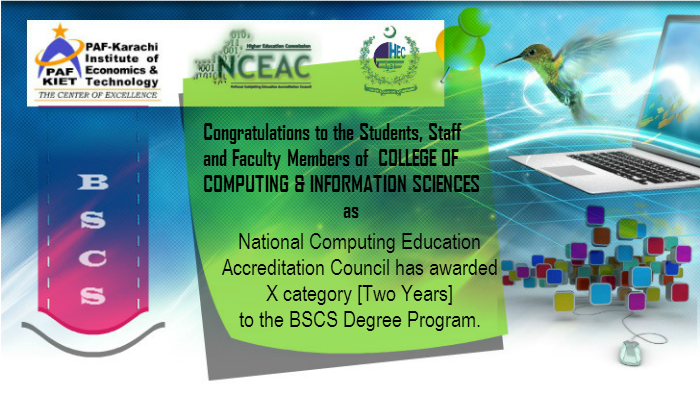 Although CoCIS offers a wide range of programs designed to meet industry requirements. Factors that differentiate us from any other university offering Computer Science and related programs include following:
• Research-intensive separate and industry oriented MS programs
• Project-intensive BS programs that include projects in each course as well as two individual industry-based final year projects
• Innovative BS curricula that includes latest tools and technologies that has increased the market acceptability of our graduates enormously
• Rigorously monitored academic programs to ensure the continuous quality improvement